History of the Presidio Yacht Club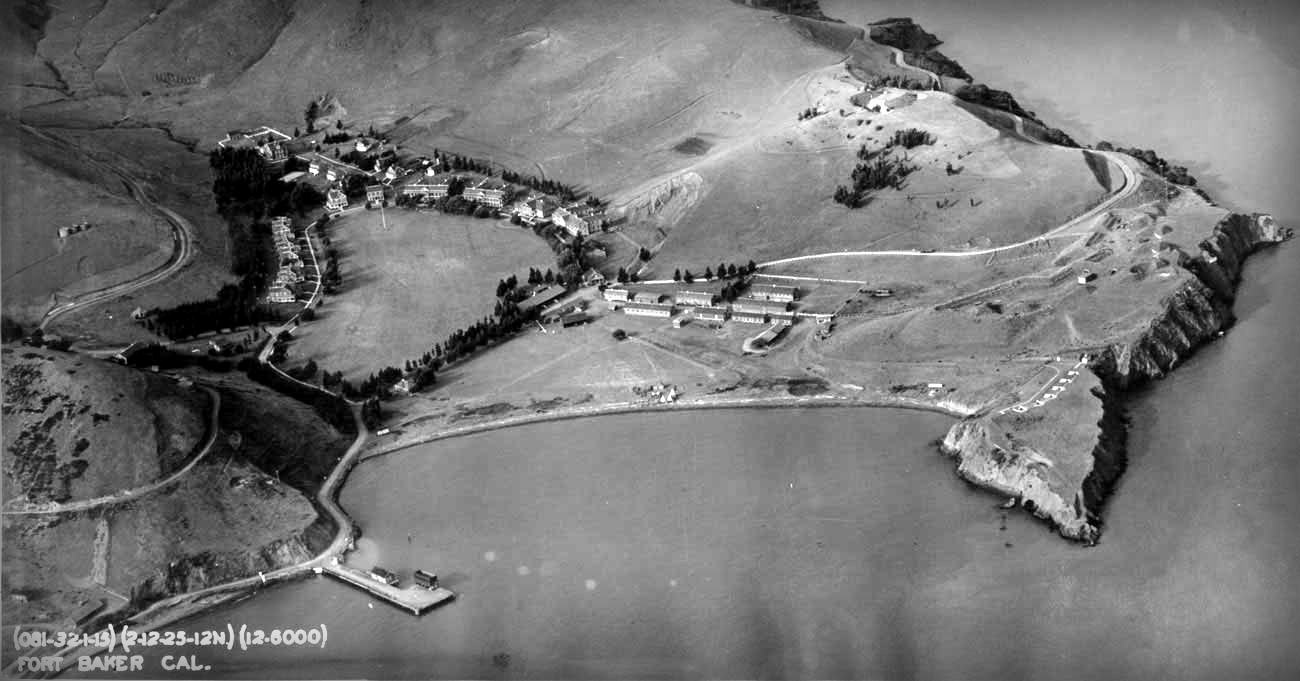 The Presidio Yacht Club has a rich and distinguished history in the San Francisco Bay area. The Club's origins belong with the establishment of Fort Baker by the US Army in 1850. Originally named the Lime Point Military Reservation (after Lime Point on the north side of the Golden Gate), the Fort operated as a satellite station of Presidio of San Francisco. Its primary missions were mine laying and hosting strategic battery sites - one of which is still accessible by hiking. Following the War, the batteries and anti-submarine operations lost their tactical value but the marina remained. Servicemen began berthing their private boats in the then empty slips. And with such a large influx of military personnel and watercraft in one of the San Francisco Bay's most beautiful locations, it was only natural that the servicemen created a formal organization.
Thus Presidio Yacht Club was founded on May 11th, 1959. Initially, it was only open to military personnel and their dependents, but that restriction only lasted as long as the Army operations in Fort Baker. Following the end of the Cold War, the US Army closed Fort Baker in 1994 and consolidated the Fort's operations in Dublin, CA. Travis Air Force Base (located in Fairfield, CA) then assumed management of the marina and the Presidio Yacht Club continued to operate. The Presidio Yacht Club is over fifty-five years old.
Currently, Presidio Yacht Club is a community of boating enthusiasts and servicemen, including both American and foreign members. It continues its operations in the same boathouse it originally started in. Although its membership is open to the public, the Club retains its strong military heritage. It is closely associated with the Travis Marina, which is operated by the 60th Force Support Squadron at Travis Air Force Base. The Club continues its tradition of camaraderie by having all-volunteer work days every second Saturday of the month, followed by dinner. Active duty personnel enjoy dedicated support and discounted services.

Presidio Yacht Club is a member of the Pacific Inter-Club Yachting Association, and enjoys reciprocal membership benefits with other Bay Area yacht clubs.
The Porthole
The Porthole is Presidio Yacht Club's quarterly newsletter, featuring news, upcoming events, announcements, and updates from our cruising members.
Archive of Past Issues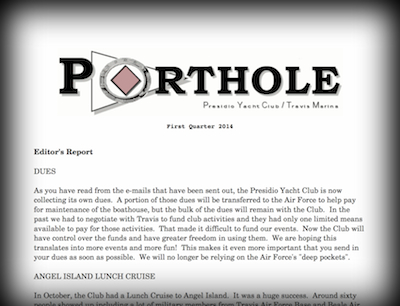 Officers & Council Members

Sarah Cherif Gambin
Vice Commodore

Charlotte Hampton
Rear Commodore
Council Members
James Earhart
Marika Edler
Steve Hocking
Edwin Crouse
Garrett Ruhland
Anya Bandt
Jennifer Hinkel
John Williams
Lisa Theodoratus
Volunteers
Treasurer - Marika Edler
Sailing Master - Steve Mahaley
Chandlery - Pete Petersen
Social Media - Shannon Elms
PICYA Delegates - Manny Mier, Pete Van Der Werff
Membership - Lisa Theodoratus
Newsletter Editor - Jason Funk
Webmaster - Jason Funk
Resources
For a more detailed weather forecast, click here.
Directions
If you are using Google Maps to navigate, you can just type in "Presidio Yacht Club" and it will direct you to the correct building. Otherwise, you can type in
600 Sommerville Rd
Sausalito, CA
94965
into most GPS units and that will lead you to the correct location. If you are coming by boat, the guest pier is next to the crane platform.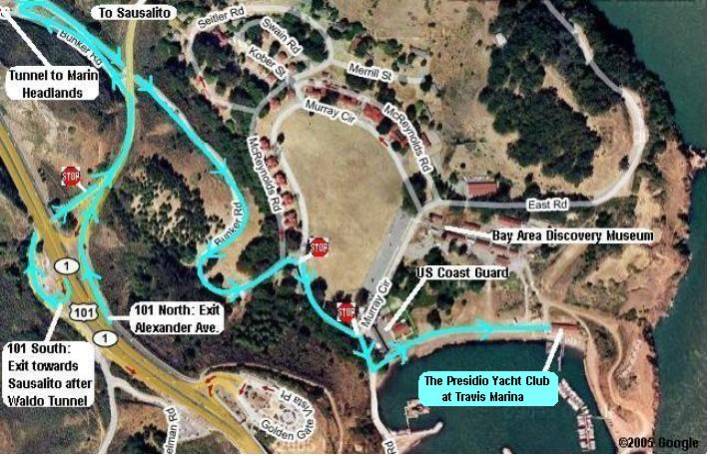 Contact
For anything related to the Presidio Yacht Club, including dinners, cruise outs, or racing, please contact
Presidio Yacht Club
Post Office Box 248
Sausalito, CA 94966-0248
(415) 677-7917
For anything related to the Marina, live music, band bookings, or event space inquiries, please contact
Travis Marina
Sommerville Road
Sausalito, CA 94965
(415) 332-2319
Visit us
We're located in Horseshoe Cove, Fort Baker, Sausalito, on the second floor of the Travis Sailing Center. Look for the wooden stairs on the far side of the building. Guest docks are available.