Travis Marina
Presidio Yacht Club shares a close association with the Travis Marina, including the facilities. While Travis Air Force Base manages the building and day-to-day operations, Presidio Yacht Club uses the facilities for its member functions, including council meetings, monthly dinners, and post-race libations. The Marina has a sail training room for sailing lessons and meetings, a banquet hall for weddings, parties, or conferences, and Travis Marina Bar, a classic bar with a strong military and yachting atmosphere with the absolute best views of the Golden Gate Bridge.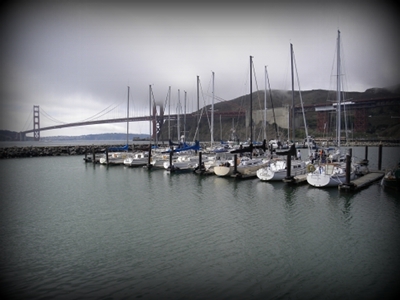 The Travis Marina, located in Horseshoe Cove, was originally built to support mine-laying operations and anti-submarine warfare during World War 2. Since the end of the War, the Marina has opened up for civilian use. There are two docks in the Marina, with 80 dedicated slips. There is a guest dock with berthing on a first-come, first-serve basis. Marina tenants have access to bathrooms and showers on site. Slips include a standard marine electrical hook-up and water access. (There are no hook-ups on the guest dock.)
Banquet Hall
A large banquet hall is located on the first floor of the building, featuring a spacious interior and incredible views of the Golden Gate Bridge through ceiling-high windows. A kitchen is attached to support catering services if requested, and all necessary furniture is supplied. The banquet hall is in high demand for weddings, birthday parties, and conferences, so reservations must be planned well in advance.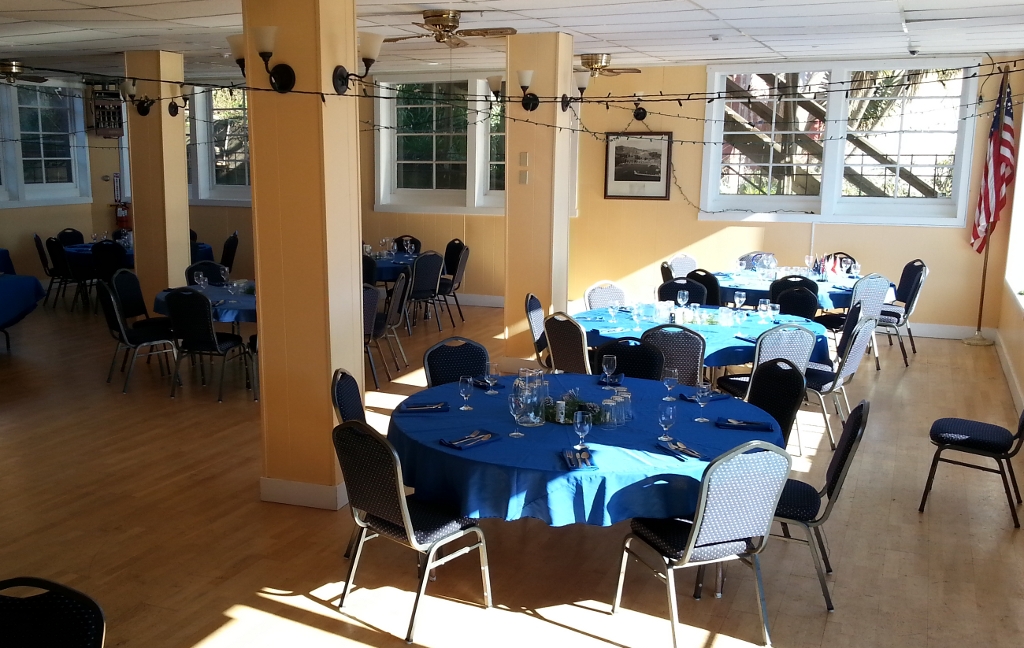 Travis Marina Bar
The Travis Marina bar is on the second floor; sometimes referred to as "Mike's Place" after a former member who ran the place for many years. It is a clubhouse style lodge with a varnished wood interior, comfortable seating, and military and yachting decor from around the world. The full service bar features draft and bottled beer, a wide range of liquors and wines, and a kitchen with standard pub fare. There usually live music every Thursday, Friday, and Saturday night. The bar can be reserved for special parties. Otherwise, it is open to the public at the following hours:
Thursday 4:00pm-11:00pm
Friday 4:00pm-12:00am
Saturday 11:00am-12:00am
Sunday 11:00am-7:00pm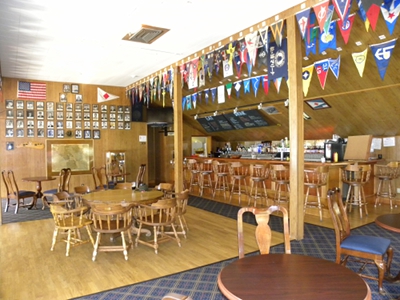 Reservations
Because of the unique location and scenery of Travis Marina, demand is high and you must make reservations well in advance. If you are interested in renting a slip or any of the facilities for your conference, wedding, or party, contact Marina Manager Louis Canotas directly at "travissailing@sbcglobal.net" or call 415-332-2319.